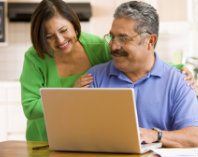 Online Banking and Bill Pay
Summary

Imagine being able to access your bank accounts from nearly anywhere in the world. Now you can pay bills with the magic of online banking. Log in to manage your Pendleton Community Bank accounts from anywhere, using a computer or mobile device.

Check account balances, review transactions, and more. Use Bill Pay to pay bills electronically and save yourself some time and money. You'll find it's easy to stay in control of your finances with this convenient service.

24/7 account management from your own computer or mobile device
Easy to log into and use
Check account balances
Review transaction history
Transfer funds between accounts
Make loan payments
Use Bill Pay to save time and money. View the Bill Pay Demo video and FAQs to learn more.
Make one-time or recurring payments from your pc or mobile device
Pay a Person (P2P)
Send a gift payment or donation
Use eBills to view, pay and track your online bills**. View the eBills Setup Guide.
Set up text and email alerts to suit your needs
Guardian Alerts available for your debit card transactions
Set up recurring payments
Encrypted for your security 




*Online banking supports the current and prior major release for Microsoft Internet Explorer®, Firefox®, Google Chrome® and Apple Safari® (Apple and Mac Users Only). Beta versions are not supported.

**Payees you setup in bill payment will show a 'Set up eBill' link if they are compatible with eBills.