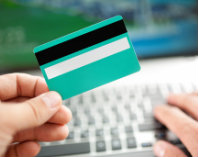 Summary

Why carry a Pendleton Community Bank debit card? Let us count the ways:

First of all, it's free
PCB's MasterCard® debit card is accepted around the globe and online.
Safer than carrying cash
More convenient than writing a check
Provides fraud protection if lost or stolen
Guardian text alerts available for each POS transaction (Message and Data Rates may apply)
24/7 access to funds via ATMs
Can be added to a mobile wallet and used on your mobile device.
All cards are secure, simple to use MasterCard® Debit Chip Cards. Learn More about the chip card and review detailed instructions on how to use.

Pendleton Community Bank Debit Cards are BLOCKED for all PINLESS transactions in Texas due to fraudulent activity.

At Pendleton Community Bank, we consider the security of your bank accounts a high priority. In an effort to keep your account information safe, we are restricting Pinless debit card transactions in certain states where we have seen an increase in fraudulent activity. We sincerely appreciate your understanding that these measures are for your protection.

We want to inform you that Pendleton Community Bank debit cards will NOT WORK in the state Texas for all PINLESS transactions. Your bank debit card WILL WORK in Texas if you enter the card PIN when paying. Card use in Texas CANNOT be temporarily unblocked.

We apologize for any inconvenience this may cause but remind you again that these measures are necessary to avoid potential fraud issues with your account.

Card Benefits

Your Pendleton Community Bank MasterCard debit card has insurance and many retail protection services when you use your debit card for those purchases. Below is a summary of these additional benefits. Refer to the MasterCard Guide to Benefits for complete eligibility and restriction details for each benefit.

MASTERCARD ID THEFT PROTECTION™

MasterCard ID Theft Protection provides you with access to a number of Identity Theft resolution services, should you believe you are a victim of Identity Theft.

MASTERCARD ID THEFT ALERTS™

MasterCard is offering cardholders cyber security through ID Theft Alerts. Get started at no cost to you by enrolling at http://www.mastercard.us/idtheftprotection.

EXTENDED WARRANTY

Extended Warranty doubles the original manufacturer warranty up to a maximum of twelve (12) months on most items you purchase.

PRICE PROTECTION

Purchases you make entirely with your covered card are covered for sixty (60) days from the date of purchase as indicated on your receipt for the difference between the price you paid and the lower price advertised.

SATISFACTION GUARANTEED

Purchases you make entirely with your covered card are covered for sixty (60) days from the date of purchase as indicated on your receipt for a full refund in the event that you are dissatisfied with your purchase and the store will not accept the item for return.

MASTERCARD GLOBAL SERVICE

MasterCard Global Service™ provides worldwide, 24-hour assistance with Lost and Stolen Card Reporting, Emergency Card Replacement, and Emergency Cash Advance. Call MasterCard Global Service immediately to report your card lost or stolen and to cancel the account. If you need to make purchases or arrange for a cash advance, with your issuer's approval, you can receive a temporary card the next day in the United States, and within two business days almost everywhere else. Remember, if you report your card lost or stolen, you will not be responsible for any unauthorized transactions on your account.

MASTERCARD AIRPORT CONCIERGE™

Enjoy a 15% savings on Airport Meet and Greet services. Arrange for a personal, dedicated Meet and Greet agent to escort you through the airport on departure, arrival or any connecting flights at over 450 destinations worldwide 24 hours a day, 7 days a week, 365 days a year.