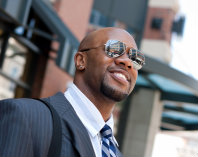 Business Money Market Account
Summary

Increase your earning potential without locking up your funds.* In fact, access is enhanced with direct check-writing ability.

*During any statement cycle you may not make more than six (6) withdrawals or transfers to another account of yours or to a third party by means of a preauthorized or automatic transfer or telephone order or instruction, computer transfer, or by check, draft, debit card or similar order to a third party. There is $9.99 fee for each debit in excess of six (6) per statement cycle. You can make unlimited in person withdrawals at no charge. A service charge of $9.99 will be imposed every month if the balance in the account falls below $1,000 any day of the statement cycle.